Still "fathers like sons" after a family affair in the Rolex Sydney Hobart
by Rupert Guinness / RSHYR Dec 29, 2021 9:38 PM PST
December 26-31, 2021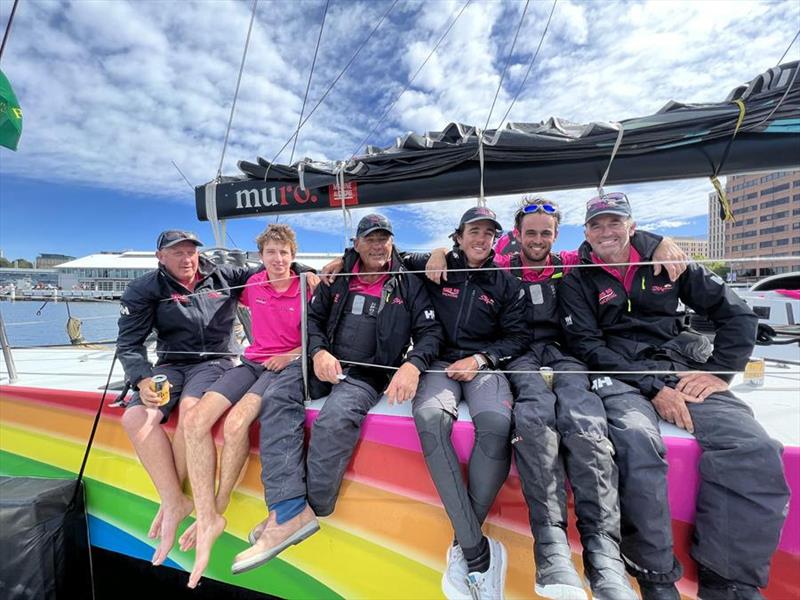 From left to right: Paul and Zac Heyes; Doug and Jarrod Sallis; Oliver and Grant Wharington – Rolex Sydney Hobart Yacht Race 2021 © Rupert Guinness

The edge of difference that Stefan Racing provided to the Rolex Sydney Hobart Yacht Race 2021 came in many ways and beyond the neon pink and rainbow color of its hull.
There was the impressive performance of the Botin 80 to equal the three 100 feet at the start and still finish in fourth place in line honors on Wednesday.
There was the story of sponsoring Stefan Ackerie, owner of the most famous chain and barbershops in the seventies.
There was the four-way boat ownership partnership between skipper Grant Wharington and three of his teammates, Paul Heyes, Doug Sallis and Adrian Seiffert.
The crew also includes three father-son couples, including the youngest in the fleet (Zac Heyes): Ollie and Grant Wharington, Zac and Paul Heyes, and Jarrod and Doug Sallis. We caught them all after the race…

Ollie and Grant Warington

Ollie:

What was your job?
"In the middle of the bow, helping to raise and lower the sails… Carrying the sails forward when we had no air. Push back the sails when we had too much air. It was an endless cycle.

Is your father different from the person we have followed for so many years in public?
"No… Absolutely not. He's exactly as you know him."

Is there a favorite moment of the race?
"Oh yeah. Hundred percent. Rolling out the 'MOH' [Masthead Code Zero] at the starting line.
"It was unreal…alongside Scallywag. It was such a great start. It was great…
"And then the punishment that followed a few hours later. Yeah, that was pretty good."

To agree:

What was it like having your son as a crew?
"Ollie has been following me here for 25 years with the family. It's the first time he's raced. It's pretty cool."

A quick thought on the winner of line honors, Black Jack?
"I'm so happy for Pete Harburg, 'Squark' [skipper Mark Bradford]'GT' [Graeme Taylor] – he sailed a lot with me – and all the crew.
"Pete really deserved the win. I can't wait to shake his hand, congratulate him and buy him a beer."

Despite the Covid, the race still took place – unlike last year. Your thoughts?
"It's such a big event for Tasmania. It's a big event for CYCA. It's a big event to be at.
"It showed everyone's willingness to work together, to make sure everything could move forward, [that] no matter what, we were going to get here."

Zac and Paul Heyes

Zac:

You are the youngest in the race at 18, how was it?
"I sailed all my life. It was a journey. It was long, hard, it was good."

Would you like to browse it again?
"Yeah absolutely."

With your father ?
"Yeah (laughing)."

Paul:


How did Zac go?
"He took on all the roles he was asked to play.
"He ended up being one of our main mainsail trimmers for the last half of the race.
"He even cut the main going up the river to the finish line. He did a great job.
"He wasn't afraid to tackle the big, powerful winches. We'd all cringe watching him say, 'How's this little guy going to do it? He will get sucked in.
"He [made] many friends. He really liked to listen to the jokes, to be part of the jokes. I think he learned so much."

Jarrod and Doug Sallis

Jarrod:

You were halfway. It's rather humid there, isn't it?

"Very wet and it was my first time sailing in cold water. So it was cold."

What does the mid bow do?

"The middle of the bow helps with raising and lowering the sails with a few guys up front and relaying messages. It's more heavy lifting."

Doug:

You are both from the Northern Territory. What was the navigation like here?

"We've sailed a lot north to Ambon, Timor, via Singapore, Malaysia, but this is our first time down here. We normally pack a pair of swim shorts and flip flops, but it requires a lot of different kit things for this one. But it's great to be here."

What were Jarrod's strengths in the crew?

"I just think I'm part of the team. The camaraderie."

How do you think the three sons – Zac, Jarrod and Ollie – fared overall?

"None of the sons took their foot off the pedal. They all arched their backs and worked hard."
To follow the race and for all information, go to rolexsydneyhobart.com